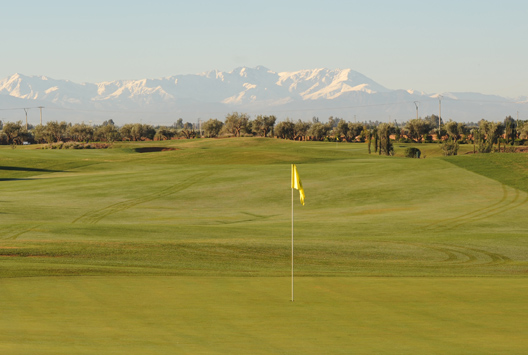 Nestled in the foothills of the Atlas Mountains against a stunning scenic backdrop, the Al Maaden Golf Resort was designed by Kyle Phillips and opened at the beginning of 2010. We caught up with Mr Phillips, a member of the American Society of Golf Course Architects (ASGCA), ahead of the Lalla Aicha Tour School to discuss his first golf course design project in Morocco.
Mr. Phillips, you have 25 years of experience in the golf course design industry. Can you start by telling us which courses you designed prior to Al Maaden?
Kingsbarns in Scotland: it opened in 2000 and it immediately went to top 50 in the world. It was the venue of the Dunhill Cup. Other courses that the Moroccans are also probably familiar with would be Yas Linksin Abu Dhabi, which is also in the top 100 and opened a couple of years ago. Every magazine and publication has it as number one in the UAE. Those are a couple of golf courses that people would know. And then, The Grove in London is a course that hosted the World Championship that I designed.
You are American, so when did you start to design golf courses in Europe?
Very early in my career. I worked with Robert Trent Jones Junior in his offices in California in 1991 and as Mr. Trent Jones senior got older, we were working in Asia and mainly in the west and he was working in the east, in Europe. So, as he got older, we started crossing over.
I was appointed in 1998 to be the architect for the Robert Trent Jones Golf Club, in Washington DC. This golf course, which opened in 1991, was the first venue for the President's Cup. Then they had several tournaments, so I have been working with that club since 1998, but in that time, there were some changes they wanted to be made, so it was nice to be able to go and see him and present my ideas and talk to him about them and you know, to know that he was enthusiastic. It was nice to be the person that was selected to continue to on with the Jones's legacy.
Even today if you go there and see the course, you won't differentiate between what's new and what has been changed and this is one of the things that I really pride myself on. Renovation work is to make the architecture look similar to what there was before. It's not like I impose my design on your design. I try to keep the same flavour and the same beauty and style.
Since you have been working with Robert Trent Jones' company… Do you think your courses have a Robert Trent Jones' feel or some influence of this style in designing?
One of the motivations for starting my own firm was to do different styles of architecture. I mean I enjoyed what we did and it was good but I really enjoy architecture in general, so, I know many people in fact that come to Al Maaden and then they say, 'This looks like nothing you have ever designed… this is very different.' Some of the principles of architecture are the same that I employed my philosophy about to the greens and strategy. I think this course is really good. I have received very good feedback from players of all skill levels that they find it's enjoyable and as a resort, this is what it is meant to be. When you design resort courses, you have to try to make the people happy to come here to play, so they have an enjoyable day and here you have to try to make them feel like they are on a Moroccan kind-of garden setting. This was the idea of the landscape on this course.
How many golf courses have you designed approximately around the world?
Well, I do not know the exact number but around 50. I really have a passion for design, so I tend to really be into my practice. For me, if I can keep a couple of courses under construction every year, it would be ideal, and fortunately, I am able to do that.
Let's talk about this course Al Maaden… When did you start this project?
We had the first meeting in 2006. We came here to do some planning. At that time, they already had the master plan here done. So, the general configuration of the course was here. In this master plan, they had an island of houses in the middle of the back nine so I was able to take out the island and reconfigure the golf a bit.
The terrain was literally flat; it had a slope from the top and slope to the bottom but almost like a table with a little slope. All of the landscaping and all of the features, everything: as you look around of this area, you know what it is like, it looks like a desert, with very little vegetation. So the idea was to create like a Moroccan garden. Because when you come here, you don't come just to play golf, but to enjoy the day. Many people that are not playing professionally, they are for a beautiful walk, a nice relaxing time and they want to experience the place. The lakes, for example were designed by Fernando Caruncho, from Madrid, the landscape designer, which I thought it was a great idea.
What makes this course different from your other courses you have designed?
The style and the lakes, it's very unique. The lakes were not at the beginning of the plan and then the lakes were brought in to reflect the style of landscape that Caruncho wanted to have here with these long reflecting pools and water stepping down and all of that.
How would you define this golf course?
The idea of the landscape is like a typical Moroccan garden. The strategy is that it's for typical everyday player, a tourist and a resort-type level player. We can also bring the professional here, and put them on back tees.
Whose idea was to add those four modern art sculptures to the course?
This was the owner's idea. So, there are mixed styles. How it's decorated, with a landscape or like with the art, it can take a whole different feeling although the principles of the architecture are the same. It's Moroccan style with a modern touch. So, I think even some modern art on that, as long as it is not imposed, it's nice to have.Golf is much more than shooting a score. Golf is a walk with your friends. This is a very walk-able course.
How many projects are you working at the moment?
We have just finished a course in Korea and we have a second course in Morocco, Agadir, nearby the Ocean. Then, we are designing another course in Marrakech, towards the Atlas Mountains, so it has a stronger view of the mountains, but it will be completely different from this one. We are working on a private one in the south of France. In Spain, we rebuilt the tees, the greens and the bunkers at "Las Brisas" and we are planning another 9 hole-course in Madrid called "Puerta de Hierro". Also there is another in California, right in the Silicon Valley.
Source:  Ladies European Tour