from Golf Course Architecture Magazine – Issue 59 – January 2020
Landscape artist
Three flat cornfields in a Dutch village have been restored to a historic landscape, now home to one of Europe's best new golf courses.
Richard Humphreys and Toby Ingleton report on a visit to Cromvoirt

The Par 4 opening hole at Bernardus
What is Kyle Phillips' style? Take your pick from his design portfolio, and there doesn't initially seem
to be much in common. No trademark hole, bunker treatment or green style that labels it a Phillips design.
But his courses do share one fundamental attribute. Whether it be the coastal links he created at Kingsbarns or the stroll through English parkland that is a round at The Grove, each pays homage to the historic landscape of the area.
When Phillips first set foot on the land that is now Bernardus Golf – in the Dutch village of Cromvoirt near the city of 's-Hertogenbosch (better known as Den Bosch) – all that stood before him, as far as the eye could see, was corn. "It was bone flat," he says. "That's actually what most people would consider to be a traditional Dutch landscape – flat farmland and dykes."
But Phillips put aside this stereotype and went further back in time, to the Netherlands as it existed before much of the country's low marshland was dyked and drained for farming.
Inspiration wasn't far away; Cromvoirt lies just east of the Loonse en Drunense Duinen National Park, the 'Brabant Sahara' known for its shifting sands. What he found there was a gently rolling heathland, with heather, gorse and pines – an ideal landscape to draw from in preparing plans for Bernardus.
The project stalled when the initial investor pulled out due to health issues, leaving the landowner farmer to find a new backer. That was until he heard that a Den Bosch entrepreneur had sold a majority stake of his business to a US investor. With Phillips' plans tucked under his arm, the landowner cycled to Robert van der Wallen's office.
Van der Wallen was reluctant at first, but his partner was a keen golfer and convinced him of the potential. With his interest piqued, he made the farmer an offer for his land and the golf course plans, and began to form his own vision for Bernardus.
Central to that vision was placing trust in experts. Both Phillips and superintendent Niall Richardson – who previously worked on four new builds over two decades, including Carton House in Ireland and The Dutch – emphasise how beneficial it has been to work with an owner who valued their judgement and provided support when needed. For Richardson this included investments in his greenkeeping equipment and compound – and seeking his input on where it should be located to provide easy access to all areas of the course. For Phillips, it was the willingness to purchase various additional land. "There were several small parcels of land that Robert was able to pick up, which gave Niall a great spot for the maintenance building, allowed for a much better clubhouse entry experience and helped me optimise the routing," says Phillips.
Construction began with a sophisticated soil transplant operation. Once the corn was cleared, the upper layer of dark sand, a result of the intensive farming of the previous years, was switched with lighter and better-draining sand that lay beneath. Earth was also excavated to create a cluster of lakes in the centre of the property and shaped into Phillips' vision of a historic Dutch landscape.
"This pure sand growing median and the climatic conditions support the creeping red and chewings fescue grasses selected, allowing for one-third less water and pesticide-free management," says Richardson. "With legislation governing the use of pesticides moving towards a process of managed reduction, or eventual total ban, we looked at all practical options to promote a future maintenance program that still allowed the delivery of quality playing surfaces on an environmentally sustainable platform."
In addition to the selection of disease-resistant and drought-tolerant fescue, a modified rootzone was engineered to maximise air and water porosity. Profile Products Ceramics has been added to the soil, resulting in a percolation rate that delivers optimum performance in all seasons.
The restored landscape feels completely authentic and works wonderfully for golf. There's still not a lot of elevation change – rightly so, that would have been completely at odds with the surrounding area – but enough contour for varied and memorable individual holes.
"We've been able to create landforms that look believable in the landscape, that look appropriate for this particular place," says Phillips. "If you look from the clubhouse, down the eighteenth, there are some wrinkles that we didn't smooth out. You get those little shadows and it just legitimises that this isn't all machine-finished – they're more natural and windblown."
Those wrinkles are particularly pleasing. As you get close up, the movement is more striking than it seems from afar, with sharp rises and falls creating a series of plateaus in fairways. It's unexpected and gives the design an edge, without looking forced. On many holes, including the first and eighteenth, a distinctive advantage can be found by holding a plateau, or getting a generous kick forward from one to another.
The short par-four third is an excellent example of this movement of the land dictating strategy. A single central bunker has been cut into a ridge that bisects the fairway. There are many options from the tee, from laying up short of the bunker with a mid-iron to trying to drive the green. Even on repeat play, none of those choices seems obviously the best. To drive and hold the green requires complete control. But choose safety from the tee and you'll need precision for your approach, particularly if the pin is set left in the smaller portion of the green.
Holes two to eight lie beyond a river, in the segment of the course that is furthest from the clubhouse. There is a large lake on this side of the property, which comes into play on the Cape-style par-five seventh and the short par-three eighth. The latter is just a wedge shot, but it has trouble all around: the lake will take anything short and right and a large bunker anything long. A miss left will roll down to short grass way below the level of the putting surface – requiring a frightening recovery shot.
There's also a water hole on the back nine, the par-three seventeenth. It requires a club or two more than the eighth and the primary danger is the river that runs in front and to the side of a green with a huge thumbprint depression on the left edge, the perfect place for a sucker pin.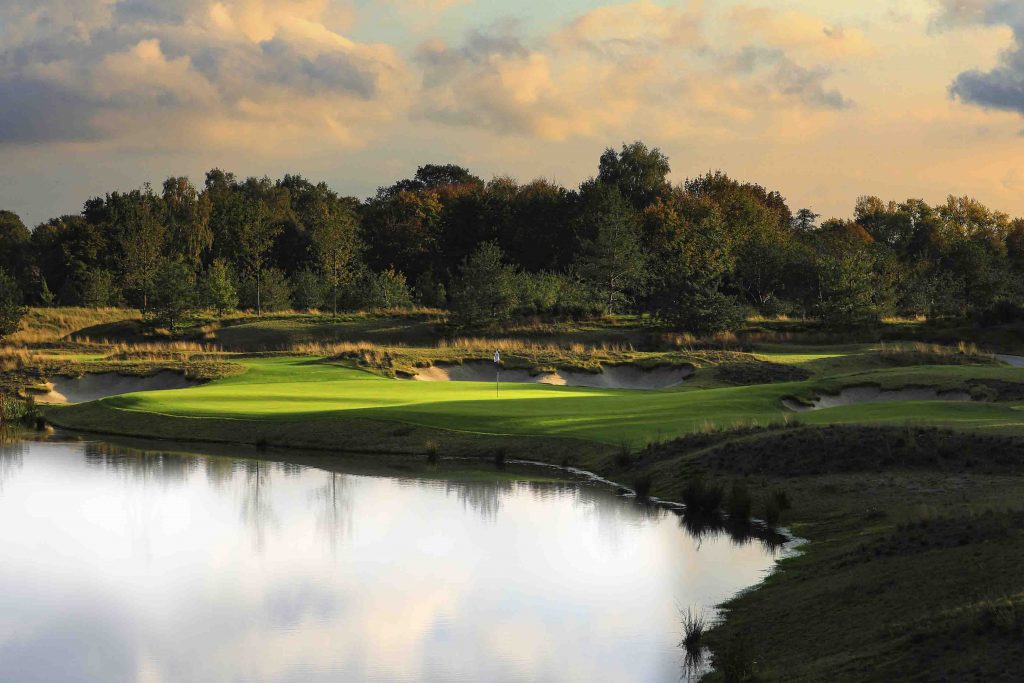 The Par 3 17th at Bernardus
Throughout the course, the greens have pin placement options that can significantly impact the strategy of the hole. At the par-five fourth for example, the wide green is shaped so that golfers can use the contour to access flags tucked directly behind a small front bunker. And the sixteenth is a variation on a Biarritz green, with swales coming in from each side but not quite meeting in the middle.
Perhaps the most memorable hole is the thirteenth (pictured on this issue's cover). The stretch from ten to sixteen lies in the northeast segment of the course (on the other side of a dyke from the first, ninth, seventeenth and eighteenth) where the holes run broadly parallel to each other. The thirteenth, though, is nestled into a corner of the property.
"Every time we came out here, we always loved this corner," says Phillips. "It was obvious that this was going to be a beautiful place and we had to utilise it."
He created a huge waste area that stretches all the way up the length of the par-three hole and into a bunker that eats into the right side of the green. It's a moment to pause before tackling the closing stretch.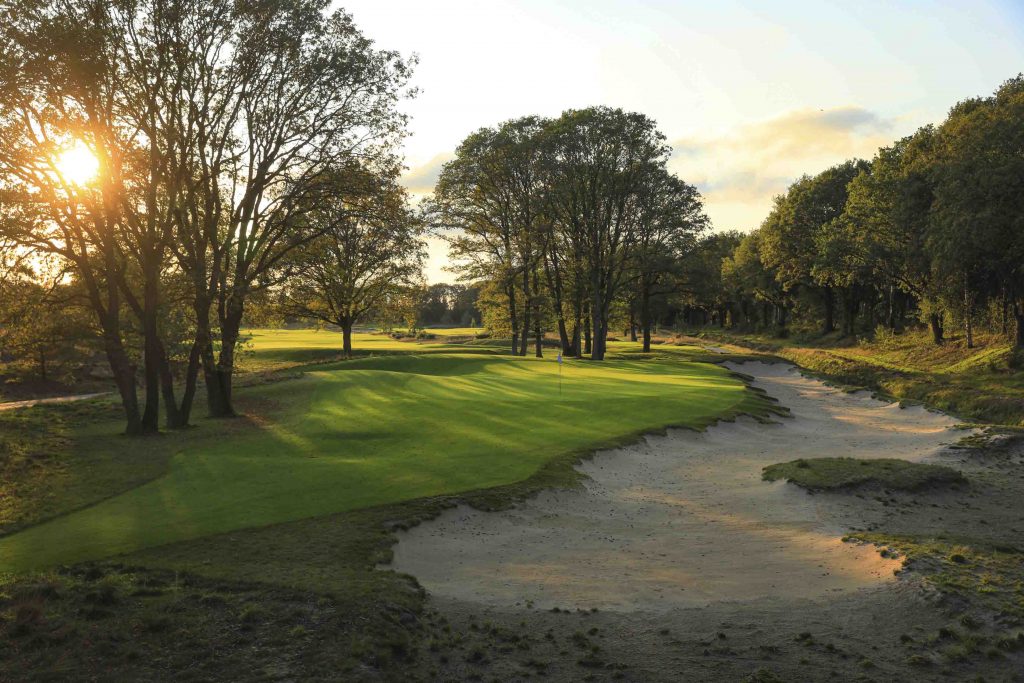 The Par 3 13th at Bernardus
Sandy waste areas can be found between fairways too, along with fescue, gorse and heather, combining to give the feel of a native landscape upon which the golf course has been laid out. "Nature just extends through the whole course," says Phillips.
Bernardus has to figure among Europe's best new layouts. And van der Wallen has created something special off the course, too, focusing on delivering a hospitality experience that is inspired by quality hotels and restaurants, rather than golf venues.
"There are so many things I didn't like about the traditional golf club experience," says van der Wallen. "Like a barrier at the entry, where someone with a clipboard takes your name, and staff hiding behind a reception desk."
Upon entering the contemporary clubhouse building, guests are welcomed with coffee and conversation, given a course guide and encouraged to relax and make full use of the facilities. These include casual and fine dining restaurants, each serving wine from the owner's California vineyard from which Bernardus takes its name. There is also a gym, and an outstanding practice area, with a three-hole reversible short course, multiple chipping and putting greens and a driving range. The range building includes covered teaching bays, indoor studios and offices, with restrooms and a full bar – all of which is set into a huge dune. To complete the full package of facilities, there is also an adjacent eight-room lodge with a pool and tennis court.
As well as offering individual and corporate memberships, the club is fully accessible to visitors, who, for 150 euros, can spend all day as a member of the club and play as much golf as they like. "If their partner doesn't play golf, they can come along free of charge and use the gym and all the other facilities," says van der Wallen.
Bernardus will soon take its place in the spotlight, having been selected to host the KLM Open on the European Tour from 2020 to 2022. Pay a visit before word gets out.