from Golf Course Architecture Magazine – Issue 56 – April 2019
Creating landscapes – Interview with Kyle Phillips

Kyle Phillips has built a reputation for creating landscapes that appear to have been formed by nature. Toby Ingleton finds out more
How would you describe your design philosophy? Are there some key principles that you try to employ in all of your work?
My design philosophy stems from the belief that golf courses should have their own character and personality derived from the existing natural features each site, as well as its location and history. I take a customised approach to each of my designs. This results in different architectural styles within our portfolio. The common threads are that the style of each course be sympathetic of its location, sits naturally in the land, evokes the traditional playing qualities and strategic elements rooted in links golf, all within the context of being enjoyable for players of all levels.
At the front end of each of our projects I work with our owners to create our own unique story to that particular location. The headlines of that story guide us in making the many detailed design decisions required to achieve a top result.
We are actively engaged in the entire design experience, from the moment you enter until the moment you leave the property. It is common for us to take the lead in the development of the site plan. Through the construction we provide our expertise with the integration of buildings, roads and parking into the landscape. We support the design team, architects and engineers with our expertise of visualising three dimensionally on a large scale. It is common that we are able to provide earth-based design solutions that are more beautiful and far less expensive, which allows us to organically integrate buildings and other rigid elements into the landscape.
We always seek to use the natural landforms where they exist. Where they do not exist we have shown an unparalleled ability to create landforms that appear natural. It has been this ability to transform less-than-perfect sites into some of the world's finest courses that seems to have distinguished my work from other designers.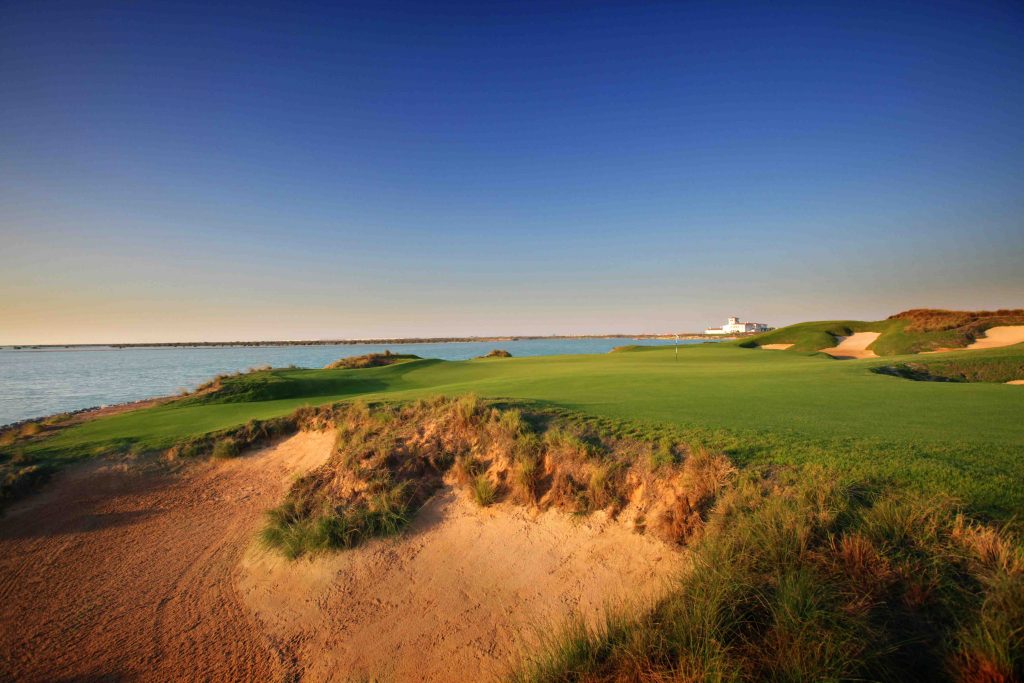 The par 3 17th at Yas Links in Abu Dhabi
How has the work of Golden Age architects influenced you, and have any of your renovation projects unearthed a special appreciation for any particular architect?
Albert Tillinghast influenced me the most in my youth, when I played regularly on one of his designs. When I came to California, I had the opportunity to know well the works of Alister MacKenzie and became intrigued by his flamboyant bunkering and green complexes. Spending more of my professional time and playing more golf in Europe, I also became exposed to the works of Harry Colt and Tom Simpson. As green speeds have increased dramatically, I have come to find their work, particularly their green complexes, quite applicable for today's game. At California Golf Club we restored the 1928 MacKenzie bunkering and at Morfontaine we have continued to pay tribute to Tom Simpson in the work we have done there. In Los Angeles, we are currently reimagining a 1920 Willie Watson by stripping back several generations of modern alterations and restoring the essence of his Golden Age design.
Talking about Cal Club in the January 2018 issue of GCA, Ian Andrew said you did an outstanding job of tying new holes into the original architecture. Would you ever see a case for a pure restoration, or is a hybrid always likely to be the best option?
For various reasons, sometimes it is not possible to literally restore a course. In the case of Cal Club, portions of the site had been lost through the state of California taking a portion of land in the 1960s for a four-lane connector road. As a result, only 13 holes could be literally restored. Twelve holes were restored and by eliminating the remaining hole, opportunities were created for a full-length practice range, a far better, strategic, new par-four cape-style hole, a wonderful downhill par three, as well as the ability to bring back the essence of the original strategic qualities on the remaining four holes.
Certainly the backstory of courses that were created a century or more ago are interesting to us that are deeply involved in the game. Within that historical context, the first priority is to design the best quality course for today. Ian did an excellent job recognising this in his article.
What does literal restoration mean? What should it mean? Particularly on Golden Age courses, there are those who define a literal restoration as a copy-and-paste of the exact original course back onto the property. Given the reality of modern technology, this approach dismisses the restoration of the strategic intent of the original designer. The mission of any true literal restoration should be to bring back not only the architectural style, but also, to the extent possible, restore the strategic playing characteristics of the course to the original architect's design intent. To accomplish this within the context of today's technology, elements of the course must be repositioned accordingly.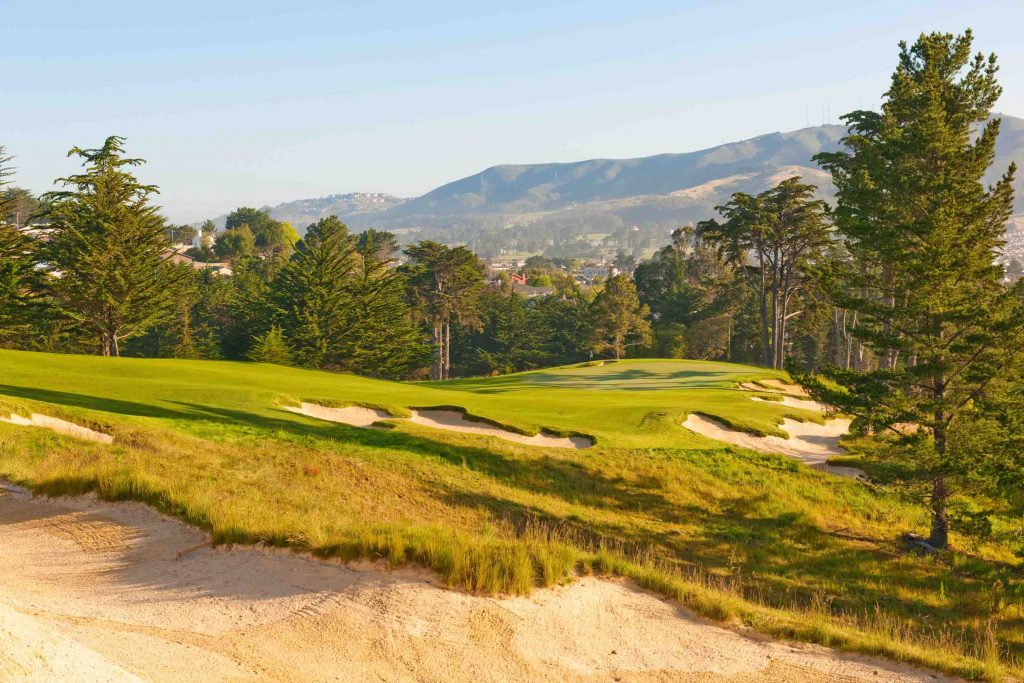 The all new par 4 7th Cape Hole at Cal Club
Since launching your firm two decades ago, you've had success throughout the globe. Do you have to change your mindset across different regions?
Even though the same golf design principles apply everywhere, the golf experience expectations of the players can vary considerably, particularly in operational items such as speed of play; clubhouse facilities; walking, riding and caddies; rest stations; interaction between groups of players; and practice facilities, to name a few. For example, speed of play expectations can vary from 3.5 hours for 18-hole rounds, to a game of golf being an all-day event with a full lunch after the first nine holes.
The permitting process, including the level of pre-construction documentation and time to acquire permits, varies as much on a regional level as a national level. Contractor quality tends to vary more country-to-country rather than by continent. The speed of construction also tends to vary not only by weather conditions, but also by the number of holidays and working hour restrictions. By working in so many different countries, with different consultants and contractors, I learned that there is more than one way to get something built with a quality result.
To what extent are your hole designs planned on paper, as opposed to being designed on-the-fly in the field?
It is true that those in our industry who come from more of a shaping background tend to work almost exclusively on natural sites, where numerous potential holes naturally exist. This process identifies a routing plan and then moves directly to the commencement of shaping.
Coming from a design background, our process provides as much detail as we can at every level of design, both on paper and in the field. Our level of detail throughout the construction process has not only allowed us to have great success on natural sites, but also on sites degraded by agriculture or past developments. This has allowed us to not only restore the historic landforms, but to obtain a net positive result by creating large amounts on new nature to be integrated into and adjacent to the golf course.
In addition, with this level of detail we are able to obtain competitive bid pricing for our clients and then spend the majority of the construction period focusing on design details with our site representative/shaping specialists. I spend a lot of time on site working on the details and provide a series of sketches that are continually refined through the step-by-step processes of a golf course construction. Mark Thawley, who has been with me for many years, is also periodically on site to work on important design details.
Which of your courses brings you the most pride, and why?
Certainly there is a sense of pride in every creation. Our process brings about the birth of a course, but it is in the hands of our owners that our creations mature and are presented to the world. It is always a pleasure to visit one of our 'children' and see the level of pride that our owners or club members have in the course. Of course, it is also rewarding when our creations such as Yas Links, Cal Club, Kingsbarns and South Cape are embraced as one of the best by the world of golf.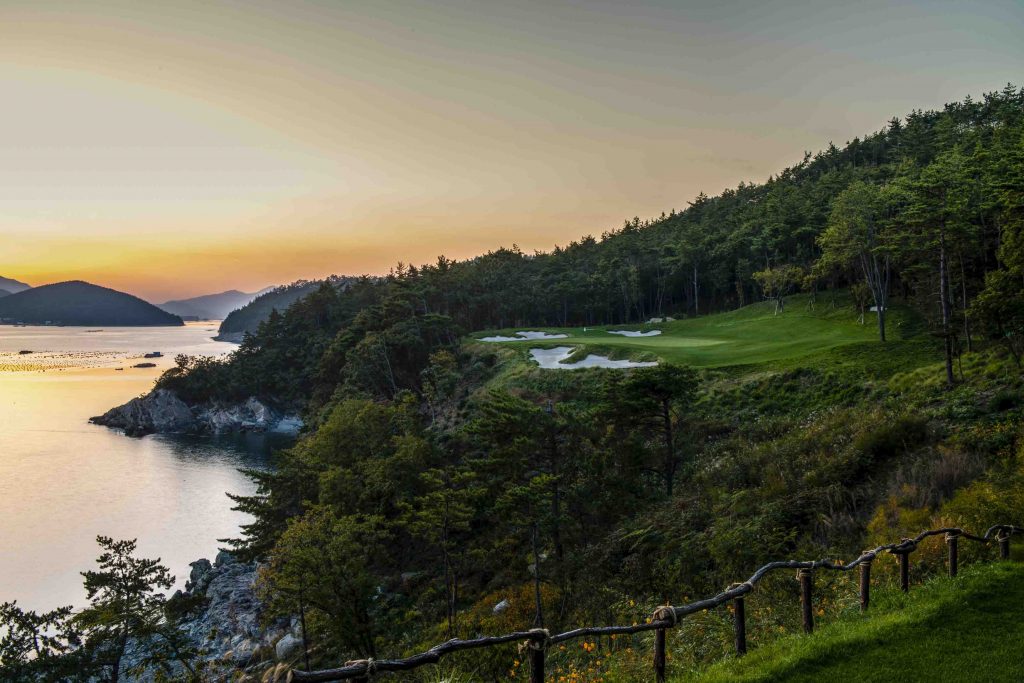 The par 3 6th at South Cape Owners Club in South Korea
It is satisfying to see how we have been able to consistently transform land into literal nature parks of golf that contain an abundance of new nature, in the process creating and restoring landforms that have been altered by farming or development in a way that are indistinguishable from nature. Recently, I was listening to a live television broadcast of a tournament being played on a course I had designed, where the commentator was celebrating how naturally wonderful this rumpled course was for golf. After a pause, rather than correcting him, his fellow commentator began to describe how the course was actually 'created' by design with all of the marvellous characteristics of an old course.
Can you tell us about the projects you are currently working on? And what does the future hold?
We recently completed the lovely new Bernardus Golf located in the Netherlands, which the golf world will certainly be hearing more about in the near future. Now open, it will host the KLM Dutch Open from 2020-2022.
In addition to the courses we have in design, we are currently building new 18-hole courses in Bangkok and Prague, as well as a complete reconstruction and reimagination of Hillcrest Country Club in Los Angeles.