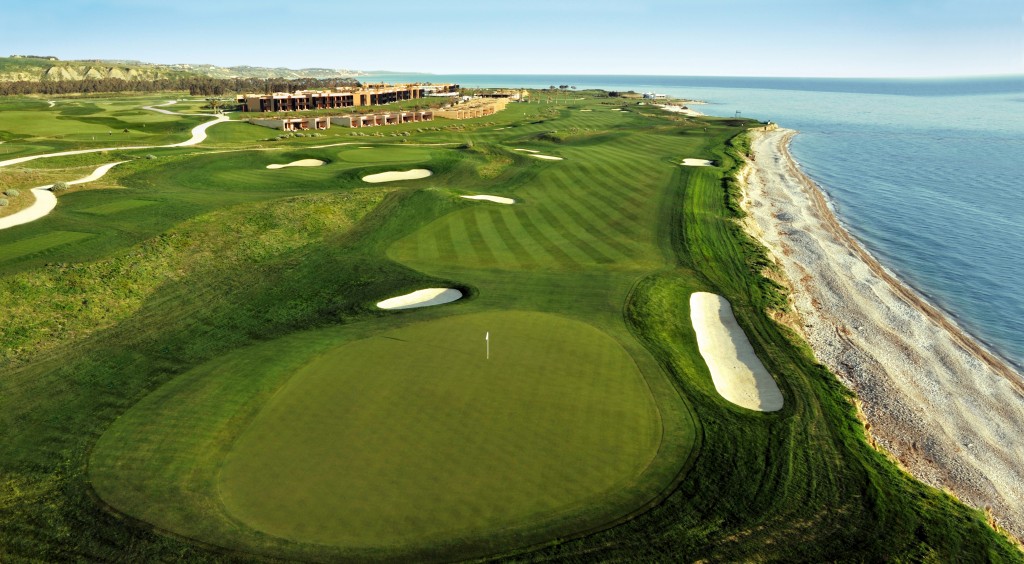 By:  Kingdom Magazine
Leading the way in southwest Sicily, near the port of Sciacca and the ruins of an ancient Greek temple at Agrigento, is Sir Rocco Forte's luxurious Verdura Golf & Spa Resort. Opened in 2009, Verdura is home to a hotel with 203 bedrooms, a spa, three restaurants and two 18-hole courses—the East and West, both designed by American architect Kyle Phillips, creator of Kingsbarns Golf Links near St Andrews on the east coast of Scotland. Meandering from mountain foothills through olive, lemon and orange groves down to the Mediterranean, these layouts, a composite of which hosted the European Tour's Sicilian Open last year, are a joy to behold, and play.
The West incorporates more coastal land, but a number of its early holes stretch consecutively along the eastern boundary and a few fairways are a little tight given the exposed nature of the site. The beachside holes are its star attraction—the first glimpse of the sea comes at the 8th and 9th before a four-hole encore from the 15th. It's these final holes with their uninterrupted views that really steal the show. The 16th and 18th are beautiful two-shotters, the 18th routed right along the shoreline, while the 15th and 17th are short holes dominated by watery backdrops. There are other standouts as well, including the strategic par-5 4th and the strong par-4 5th, where the approach is played partly across a pronounced natural depression. The first coastal hole, the two-shot 8th, is also outstanding.
The more undulating East is equally memorable. Its finishing holes don't have quite the same glamour, especially the front-nine par-5s that link the central area to the southern beach holes, but there are more directional changes here and plenty of design surprises as well. Highlights include the short par-4 3rd, early water holes at the 5th and 6th, each with stunning outlooks, the intimidating ridge-top par-3 12th and the semi-sunken 13th green. From there the course turns seaward. Both the 14th and 15th are long holes that plummet across glorious linksy ground while the 16th is a short hole played into a wickedly shallow target. The finishing duo are particularly strong—the penultimate hole rises gently into the foot of a Sicilian hillside and the breathtaking par-4 18th crashes from an elevated tee right along the craggy coastline.