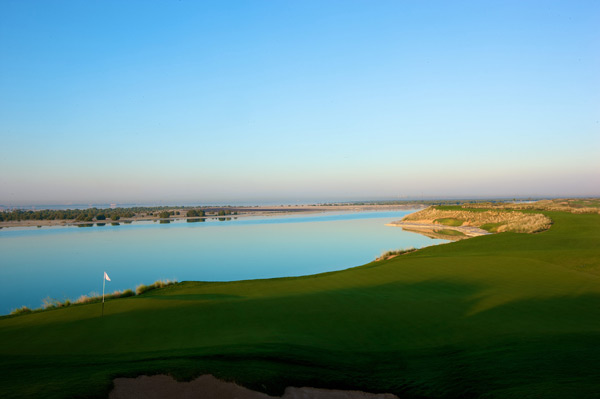 The American golf-course architect – who never travels without a pair of golf shoes in his luggage – tells Minty Clinch why Abu Dhabi's Yas Links features among the favorites in his personal portfolio.
As a child Kyle Phillips played golf five times a week, a dedication that resulted in a handicap of two when he was 16. Instead of turning to the professional game, he signed up for a five-year program in landscape architecture at Kansas State University. His studies included golf-related courses and he developed a useful network of contacts in the industry. When he graduated in 1981, he joined Robert Trent Jones Jr's west-coast office at Palo Alto as vice president and golf architect, training and experience that served him well when he set up Kyle Phillips Golf Design in 1997. Within three years, he'd penetrated the tough Scottish market, turning a stretch of farmland on the coast south of St Andrews in Kingsbarns, widely viewed as the best golf course designed in the modern era (post 1960). After it opened in 2000, Kyle career took off. In 2010, Yas Links, his ground-breaking course in Abu Dhabi, earned similar acclaim. Over the last decade, he's added The Grove outside London, Dundonald near Glasgow and Verdura in Sicily to an increasingly impressive portfolio. At the inaugural St Andrews Golf Festival in 2012, his work in 30 countries was honored with the first ever award for Excellence in Golf Course Architecture.
How much do you travel for your work?
I lose track of how many trips I make but it's a constant round of airports and long-haul flights. Flying time is a chance to catch up on sleep or do some intensive paperwork. My reading is the Architectural Digest or some other periodical, often downloaded onto my iPad. I only watch a movie when I need to nod off. I try to fit the maximum number of meetings into business hours so I fly early in the morning or late at night. Not surprisingly, my wife is against that kind of schedule so she doesn't come with me unless I'm prepared to add on a few days of pleasure. That doesn't happen very often, but she did enjoy the chance to road test the five star hotel and spa at the opening at the Verdura Golf Resort in 2010.
Where is home?
Although the name doesn't suggest it, Granite Bay is in the foothills of the Sierra Nevada outside of Sacramento. The bay is in Lake Folsom rather than on the coast. We raised our kids there and it's still the ultimate in low stress as far as I'm concerned. I play golf nearly every day, which allows me to keep a single digit handicap. Although there are resorts nearby, I don't ski or snowboard because I've got bum knees. I go to the gym with my wife sometimes but I'm defiantly not a bodybuilder.
Why did you go to the Middle East?
The height of the building boom in the early 21st century was the right time to explore the possibilities. I knew Dubai had several good courses, but none of them were outstanding. Abu Dhabi had a sand course, but the National was the only 18-hole grass layout so there was lots of scope.
What was your initial impression of the Yas Links site?
I was delighted by the barren strip of sand. It was even more featureless than the wet fields that became Kingsbarns, so I was able to let my imagination rip from day one. I look to natural Scottish and Irish courses from the Victorian and Edwardian eras – Prestwick, Lahinch, Royal Portrush – for inspiration, but on this occasion, I had to create fairways, bunkers and greens from scratch. My raw materials were heat resistant varieties of grass and sand imported from Saudi Arabia rather than dunes and turf cropped by sheep for centuries.
What did you like about Abu Dhabi when you went there regularly?
The big surprise was that it's so up-to-date. I really enjoyed being part of the melting pot, working with people from different cultures and languages. Not that I can speak any of them. My grandmother came from Turin, but my Italian doesn't extend beyond grazie mille and spaghetti bolognaise. Luckily, English has gone global so I was able to enjoy dinners in town with employees from around the world.
Where is your main focus now?
At the moment, golf cash is flowing east to China and South Korea. My project at South Cape, a mountainous coast south of Seoul, is a very different architectural challenge. The granite landscape isn't suitable for a links course, but my staff are serious and hard working and the technology is excellent. I'm very impressed with South Korea's organization, precision and above all its cleanliness. We could learn from that in the United States.
What are your other works in progress?
The Al Maaden Golf Resort outside Marrakech was my introduction to Morocco. In an arid area, they wanted water features that look like ponds in formal Moorish gardens, very different from the standard lakes you find around the world. Moroccans work to live, rather than living to work as they do in South Korea, so the organization is a bit chaotic, but one thing led to another and I'm now on site at Taghazout, a surfer's paradise to the north of Agadir. The terrain for the course runs along the top of 60 meter cliff so there will be ocean views from every hole.
What's your "must pack" for any trip?
My golf shoes. That way I can turn up at any course, get rental clubs and play. As everything in my luggage has to have real utility, they're also handy to wear on site, especially when I need to get a grip in the mud. My other essentials are drafting scales, earplugs and eyeshades.
What do you do without?
No comb, no hair dryer. My friends are losing their hair, but mine's long gone. The bonus is the look older while I stay the same!
SOURCE: Ultra Travel Magazine